How do you find a luxury place in Amsterdam for travelling business folk oozing with character and style, and in a great central location? A cool short term stay accommodation.
Enter New Holland House Souterrain.  A client of Orange Tax Services has just converted an old canal house basement into a seriously cool high end living and working space, right at the doorstop of the artisanal 9 Streets precinct in happening Jordaan.
Short term stay accommodation
This is a hidden secret that you won't find advertised for short term rental on AirBnB – the place sells itself!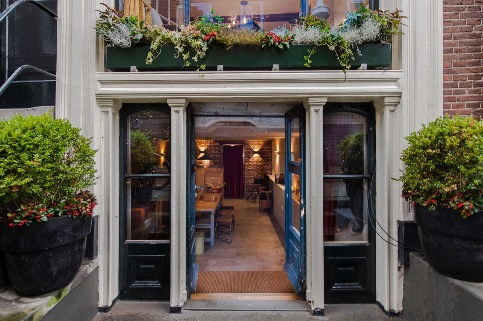 Early 18th century monument meets modern day business necessities
The owners have made this place a "one of a kind" – an absolute hidden gem. Words cannot describe the "chic" feel when you first wallk into the souterrain – you have to see it to believe it!
New Holland House Souterrain is a unique fusion of 18th century architecture and modern living requirements, perfectly suited  for the modern day "gentry man" (or woman J).  Here is a taste of just some of its features:
Original beams, beautifully imperfect – you could not create or buy this look
The original workman's bench becoming the centerpiece of the kitchen
A beautiful feature mirror ideally placed to provide views of the famous Pulitzer Hotel !
A luxurious bathroom and laundry, inspired by a bathroom at the ritzy l'Hotel in Paris, separated by a feature brick wall built from the original basement bricks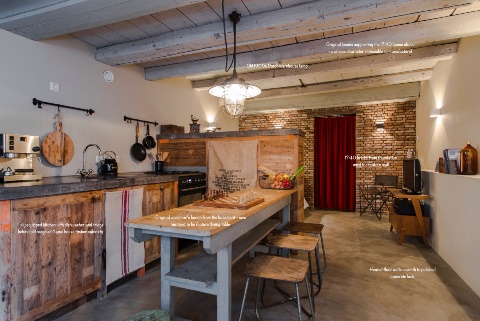 Everything a travelling professional needs
As a travelling businessman himself, the owner has thoughtfully catered for everything that a professional may need during a short term stay.
High speed wireless     Cable TV     Work desk overlooking Pulitzer Hotel
Wireless printer   Bosé sound player   Mood lighting     Luxury linen and towels
Washing machine and dryer    Heated floors
Integrated fridge and dishwasher   Local hand-made ceramic crockery
It functions beautifully, while still being respectful to the history and charm of the place.
The owner has uncorked the magical ingredient for living in Amsterdam while on business – mood and ambience.   It is the buzz you feel when you know you are staying in a special place – when you experience a WOW factor!
Know of a professional needing a short term solution?
If you (or a colleague, guest or client) need to work in Amsterdam for more than a week or so, fancy hotels can be expensive and not always that homely.
This one of a kind place could be a really cool alternative – and you will stay there in the knowledge the owners have been advised by the best in the business J.
Please send email enquiries to marke@newhollandhouse.nl.  Be sure to say that "Arnold from Orange Tax Services" sent you, and I am sure the owner will take care of you with a great deal.   And of course, you can expect a letter perfect Tax Invoice !