Daft and IND go hand in hand, but who's hand would be convenient to hold as well? Indeed: Yildirim.
Daft and IND
Daft stands for Dutch American Friendship Treaty (DAFT) and the IND stands for the Dutch Immigration Office.
Non European citizens need a residence and often a work permit to become a resident in the Netherlands. There are many exemptions to this rule and one of them is the Dutch American Friendship Treaty.
The special relation the Dutch have with the United States goes back a long time. In the era that New York was still New Amsterdam. Based on that relationship the Daft was created.
Starting a company
For US nationals that would like to become a resident in the Netherlands, the IND offers an opportunity. When the US national starts a company, then under conditions the US national is quickly permitted residence by the IND, also for his/her kids and spouse.
IND and conditions
The IND is a Government organization and you can have your vivid imagination how this paper trail will work out, and you might be right. Muus Muslum Yildirim will laugh at me when I mention paper trail, as I can only assume paper is no longer part of the trail. But a trail it still is.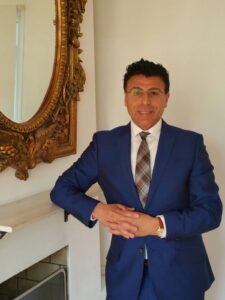 Mr Muus Muslum YILDIRIM, lawyer at Hofstaete Advocatuur Law Firm
Muus is an establish immigration lawyer in The Hague for more than 21 years, close to the Dutch Parliament. This is his website: https://www.dutch-american-friendship-treaty.com Muus has an expertise and is focusses on assisting US nationals with their trail going through the IND system. Hence we work pleasantly with Muus. We actually recommend using the skills of Muus to get to the objective: Dutch residence.
What is our part of the collaboration?
Part of the IND process is to proof to the IND that certain financial criteria are being met. Such a proof can only be provided by a limited number of professionals. Among which the tax advisors that are member of the tax advisors organization Register Belastingadviseurs. Our office is an official member, hence we can provide in the need for proof.
To be frank, at an interesting fee as well. The statement is often provided for a EUR 100 ex VAT fee. We like to offer this as showcase of the other services we can provide. Services as accounting, Value Added Tax returns filing and income tax returns.
The US tax return we cannot process for you. But we work with BNC Tax who are expert in filing US tax returns.
Tax-is-Exciting
We think tax-is-exciting and some think working with the IND can be exciting too. Muus is one of them, hence we strongly recommend to use his services to get things done.