The one man company is a favorite company used by Dutch residents who would like to start developing the business idea. We will be pleased to assist.
One man company – our quote
Our quote of the one man company you find in this article. The quote is transparent on the costs, that is how we like to operate.
Most starting entrepreneurs have many questions and we are eager to have a free zoom meeting during which we like to address the questions you might have. Questions simple as how is the process of registering the company to how do I invoice a client outside the EU.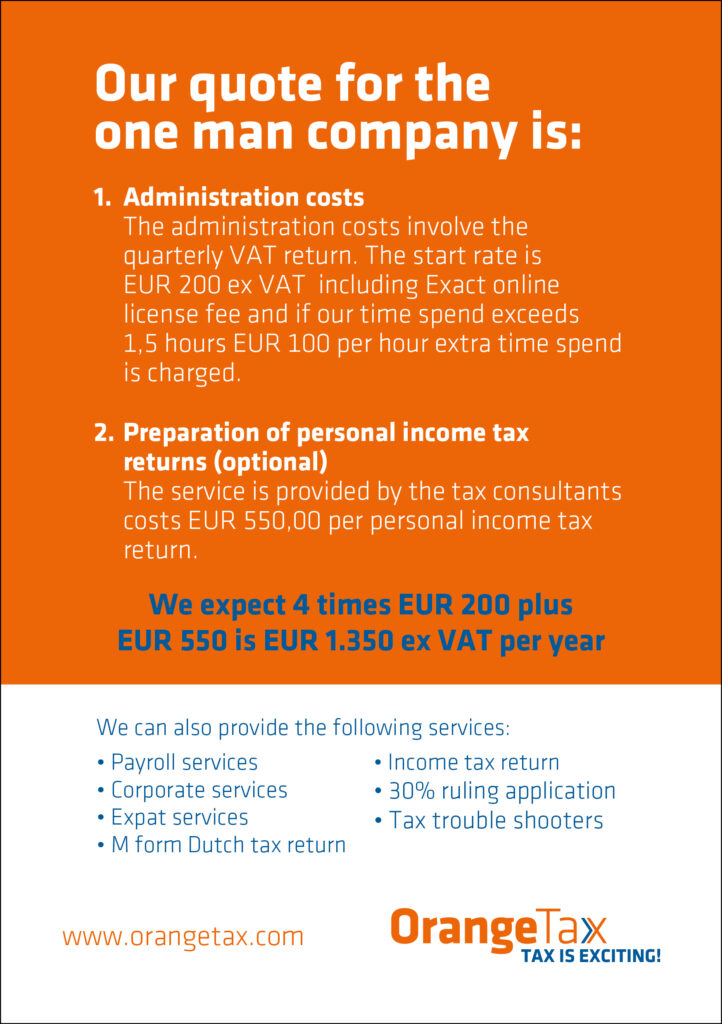 One man company – our expertise
Our expertise is there for the international needing assistance with the national tax obligations. We understand that for internationals the Dutch way of organizing the business is not always clear. Or not always very logical. You register with the Chamber of Commerce, the tax office issues a company tax number and a tax advisor can assist you with filing the obligations.
We have over 30 years of experience working in the company. We still are very much excited about taxation and excited to assist you. The experience has learned us a lot. This enables us to make it simple for you to comply with the rules and regulations.
Tax is exciting
We think tax is exciting and we welcome you to connect with us via zoom. During this meeting you can ask the questions you have. We like to assist you. Then you can decide if you would like to work with us.